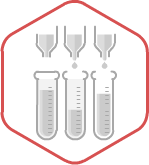 Compound resupply
Re-supply of selected hits from the Prestwick Chemical Library® or any other Prestwick library for validation is offered :
at 10 to 100mg in dark glass vials,
at 10mM in DMSO coming in 96 well plates.
Compounds are provided with a database in XLS format.
Hit confirmation and compound analoging
This service includes:
in depth analysis of screening hits and hit classification into chemical families,
selection of hit series of interest for the project (structural/med chem analysis),
search for structural analogs in the available chemical space,
selection of min. 10 compounds per series, if possible,
purchase of the relevant analogs or synthesis of analogs (see Custom Synthesis),
QC of the compounds.
Deliverable: compounds in powder or DMSO format, as for resupply