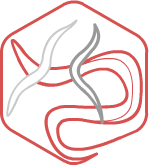 Prestwick C. elegans Library: The Library Of Drugs Designed For C. elegans Research Programs
A collection of 240 small drugs-molecules has been carefully selected for its chemical structural diversity as well as for good tolerability in Caenorhabditis elegans.
This Library is a subset of the Prestwick Chemical Library® made currently of 1520 drugs out of patent
Why a C. elegans library?
C. elegans models of human disease hold great promise for the discovery of new treatments. Screening of drugs on these models, however, is complicated by drug toxicities specific to C. elegans as well as by poor tolerance of C. elegans for most organic solvents (used to dissolve drugs)
Therefore, the selection of drugs was made by using several criteria such as: known safety and bioavailability in humans, chemical diversity, therapeutic diversity, solubility or toxicity for C. elegans
C. elegans Library : Additional advantages:
What makes this C. elegans chemical screening library uniquely useful is that its compounds are marketed drugs selected for their known bioavailability and safety in humans.
C. elegans Library: How provided?
In powder form, at 5 or 10mg packaged in dark glass vials with cherry-picking.
All compounds have purity higher than 90%.
C. elegans Library: A database ready for use:
Provided with a well annotated database as structural data file (SDF), IsisBase (DB) as well as an XLS file. Annotation includes target, therapeutic class/effect, side effects, solubility and the highest tolerated (non-deleterious) concentration in C.elegans.
Request a quote