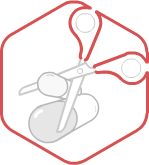 Prestwick Drug-Fragment Library:
1456 fragments arising from
smart fragmentation of approved drugs
Acknowledged as powerful tool for successful identification of lead series, fragment-based drug design is widely implemented in industry and academia. The fragment-based drug discovery (FBDD) has emerged as an alternative approach to traditional lead identification via high-throughput screening. Unlike other screening approaches, FBDD identifies smaller compounds, which bind to different parts of a biological target.
The primary rationale for fragment-based screening is that the identified hits give access to a broader chemical space while screening a limited number of compounds. FBDD gives a better chance for the final lead compound to have standard drug-likeness parameters. On the other hand, they are simpler molecules (fragments) with fewer unavoidable interactions and, thus, a much better possibility of orienting within the binding site favorably.
To meet researchers' expectations in this field, an in-house team of medicinal chemists has designed a unique collection of 1456 small molecules (MW<300) arising from the smart fragmentation of approved drugs (1500 drugs, up to year 2016).

Prestwick Drug-Fragment Library:
An original collection of
fragments derived from approved drugs (1064 fragments available in stock)

Balanced set of Ro3 compliant (55%) and Ro3 non-compliant (45%) fragments
Good coverage of lead-like diversity space
High-quality hits increased by using fragments derived from approved drugs
Rapid follow-up on primary hits possible
Experimental solubility in DMSO (100 mM) and PBS (1 mM) assessed
Purity 95%+ (H NMR spectrum and LC/MS available)
Mean MW: 182

56% of fragments are exclusive to the Prestwick Drug-Fragment Library and cannot be found in any other major supplier of fragment libraries
>80%  of the recent approved drugs contain at least one of the Prestwick Drug-Fragments.
Prestwick Drug Fragment Library: Examples
Prestwick Drug-Fragment Library: Multi-format and highly customizable
Format
Comments
Core set
480 cpds

DMSO solution (up to 100 mM)
DMSO-d6 solution
(up to 100 mM)

Representative set of the entire library
Ready for Screening
Highly recommanded for rapid outcomes
Complete library
Available for cherry picking
Customized
set

Undissolved (>10 mg)
DMSO solution (up to 100 mM)

Selection based on your own criteria
(physicochemical properties, substructure or similarity search)
In any case: Resupply guaranteed up to 100mg
Prestwick Drug-Fragment Library: Applications in FBBD and more classical screening
Fragment-based screening using X-ray crystallography, NMR, SPR, High-concentration bioassay, …
HTS for small molecules
Screening on living cells or cell lysates for target identification & validation
Request a quote